The Psychological Skills of Top Performers
Discover how performing changes when you develop all seven
First my hands would get cold and sticky…
Then my fingers would lock up…my bow arm would threaten to start trembling…
And all the while, my thoughts would be a blur, jumping from concerns about the big shift coming up, to what the audience might be thinking, to what I'd eat for dinner…
Arrgh!
Hi, my name is Dr. Noa Kageyama. I'm a sport and performance psychologist and am on the faculty of The Juilliard School.
For years, performances felt like a total crapshoot. Where it seemed like no matter how much (or how little) I practiced, I could never predict what kind of day I would have on stage. 
Sometimes I'd have a great performance, but more typically, my playing would be far below the level I knew I could play at. And it seemed largely unrelated to how much I had practiced.
But then, when I was doing my masters at Juilliard, I took a class that changed everything. A class called "performance enhancement" taught not by a musician…but a sport psychologist.
"Sport" psychology?
At first, I wasn't sure what to think, but as the semester progressed, I began to see that beating nerves and performing consistently at our best, is not something that happens by chance, but is a skill that we can learn.
A skill that entails a certain type of practice – that elite athletes have actually been benefiting from for years.
As I began incorporating these elements into my own practice, my experience on stage began to change too. Whether it was studio class, exposed solos in orchestra, or international competitions, instead of feeling like a bundle of nerves on the edge of losing it on stage, I felt much more in control, confident, and I began performing more consistently like I always thought I could.
And it wasn't just me. Musicians at all levels – from world-class soloists to members of top orchestras to conservatory students and adult learners – have found that performing better under pressure is not the result of some sort of "performer" gene, or even practicing more.
There's an aspect of practicing that we just tend to neglect, and often don't realize that we're doing so until it's too late.
What's that exactly?
Three pillars of practice
Legendary violin pedagogue Ivan Galamian once wrote that there are three aspects of practice, and that to be a great musician, and truly prepared for performance, we should spend about an equal amount of time in each area.
The first is conceptual – which involves figuring out what you want a piece to sound like.
The second is mechanical – which involves figuring out how to sort out the technical challenges associated with playing the piece like you hear it in your head.
And the third, which he said we usually do too little, too late, is performance – which involves making the shift from learning mode to performance mode and producing exactly what you want in one shot.
Never enough time…
The problem, of course, is that there are millions of little details we could spend our time working on, and it never feels like we have enough time, so we tend to focus 95% of our time and attention on the mechanical and conceptual parts.
Which is fine – until the day of a performance comes, we get on stage, and no matter how hard we try to calm down, release tension, or get into the zone, we just…can't. And the best we can do is just try to survive and get through the performance.
It's not about practicing more?
For years, I assumed that I simply had to practice more. Or perform more. But even when I did, not much changed.
Because it's not about doing more of the same thing, but making sure our practice is more balanced. Ensuring we practice for the unique demands of performing, so we can make the shift from practice mode to performance mode when the time comes.
For instance, by learning how to quiet our inner critic.
Learning how to keep little mistakes from snowballing into bigger ones.
Building confidence from one practice session to the next, so we can play fearlessly on stage instead of locking up and becoming cautious and careful.
Managing shakes and nerves, so they don't get in the way of your performance.
All of which requires just a small fraction of the practice time you're already putting in. But makes all the difference in the world once you're on stage.
So if you've been frustrated by inconsistent and frustratingly subpar performances, I'd like to share with you the exercises, techniques, and practice strategies that elite athletes use – and show you how to apply them to your own practice routine, so you can start playing more confidently on stage, and ensure that when the moment of truth arrives, audiences get to hear the real you.
Introducing…
Beyond Practicing
(v2.5)
Beyond Practicing is a step-by-step guide to beating performance anxiety and learning how to perform your best when it counts. It's everything I wish I would have known 25 years ago, organized into an online home-study course that will help you develop the same psychological skills that sport psychologists have been teaching elite athletes for years.
The course covers the essential concepts from the sport and performance psychology literature, and with the specific demands of a performing musician in mind, shows you exactly how to develop the ability to overcome nerves, the critic in your head, memory slips, distractions of all kinds, and play your best when the pressure is on.
It's nearly identical to the classes I teach at Juilliard – except you can proceed at your own pace, on your own schedule. No need to deal with rush-hour traffic, or scribble down notes after a long day when you're fighting a cold, just because that's the day when class is held.
Skill #1 |
Activation Strategies

How to Regulate Your Stress Response
Many musicians are plagued by nerves, doubts, and fears in the hours, days, sometimes weeks before performances. Most have never learned how to regulate their body's built-in fight-or-flight response, never mind how to use this energy to their advantage. You'll learn a 7-step pre-performance routine called Centering, that will help you take the edge off your nerves and start every performance on the right foot. After all, a great first impression can really be a big help in big auditions or competitions when time is short.
Skill #2 |

Effective Practice
How to Practice so Everything "Sticks"
Practicing can be frustrating, and there's nothing worse than putting in the hours and failing to see results. Rest assured, it doesn't always have to be this way. There is indeed a "right" way to practice and a "wrong" way, when it comes to making progress and building confidence in your playing. You'll learn how to accelerate your progress with "practice sprints," problem solving models, and more. And you'll also learn three different ways to memorize music, that are way more effective (and permanent) than merely repeating the same thing over and over.
Skill #3 |

True Confidence
How to Build Confidence (without lying to yourself)
Confidence is widely acknowledged to be one of the most important ingredients for success. But many assume that confidence is either something you're born with, or is largely out of our control. Successful musicians take confidence into their own hands, and you'll learn how to do the same. You'll learn a 3-step process for silencing the inner critic who sabotages your confidence without having to rely on overly-cheery affirmations ("just stay positive!") or lower your standards.
Skill #4 |

Becoming Fearless
How to Play Out More and Develop Trust in Your Abilities
A close relative of confidence, courage is probably the single most important skill when it comes to making the most of our talents and realizing our full potential – not just on-stage, but off-stage as well. The bold captivating performances and the career success you achieve are all proportional to the amount of courage you have built up – and the degree to which you can trust yourself in high-stakes situations. It's really difficult to play up to our abilities if we are constantly second guessing ourselves or seeing ourselves screw up before we even get to the tricky passage coming up. You'll learn how to systematically develop more trust in your abilities and push the edges of your ability.
Skill #5 |

Mental Quiet
How to Quiet the Critic in Your Head
Most would agree that concentration is important, but not many have learned how to practice and strengthen it. If your thoughts start racing when you are nervous, or your mind goes blank (and not in a good way), you'll learn how to get into that specific mental state which is more conducive to performing "in the zone." This is one of the keys to rediscovering how to actually enjoy performing (and even auditioning) again.
Skill #6 |

Mental Focus
How to Develop Ironclad Attentional Control
You've probably been told that if you just "focus on the music," things will be just fine. Of course, that's much easier said than done (and what does that even mean, anyway?). The performance literature suggests that our ability to stay focused only on those things that are relevant to what we are doing at that moment is the overarching key to great performances. But most of us have never learned how to do this, or what specifically to think about. In this lesson, you'll learn techniques and principles which will enable you to keep your attention focused where it needs to be, when it needs to be there.
Skill #7 |

Mental Resilience
How to Cut Down on Mistakes and Handle Adversity Like a Pro
Some mistakes are inevitable, but many of the ones you make under pressure are not. That's because everyone has a specific "oops" reflex that tends to cause more mistakes (which then cause more mistakes, and so on). There's a tendency to dwell on mistakes and imperfections, but that interrupts our focus and takes us out of the moment. And this increases the likelihood of our making another mistake, and then another, and so on, unless we learn how to move past these mistakes quickly. You'll learn a 5-step recovery sequence that will enable you to stay poised and focused in even the most difficult situations – and make sure that mistakes don't ruin what might otherwise have been a great performance.
What's Included in the Course?
Video Lessons
The course is structured around a series of video lessons, where you'll learn about a) the science behind each lesson's main concepts and techniques (but not in a boring, dry, textbook-y kind of way), and b) how to develop these skills into strengths using concrete, step-by-step exercises.
Altogether, you'll have access to 9+ hours of video presentations on the course material, which you can stream to your laptop, iPad, or iPhone for convenient learning on the go.
Printable Workbooks
To supplement the videos, you'll also get 7 printable workbooks, with transcripts of the videos plus worksheets, checklists, and cheat sheets to help you work through each exercise and incorporate these drills into your practice.
Altogether, there are 250+ pages of performance psychology training with examples, exercises, and strategies that you can use immediately. But don't worry – it's not a brain dump of research findings, or abstract theory, but a structured, organized, action-based approach to help you learn how to keep from freezing up when you walk on stage. I know you're busy and don't have time to wade through needless information, so I've done the work of distilling decades of performance psychology research into concise and to-the-point lessons – all the information you need without the extraneous "filler."
And if you're a details kind of person, you'll find links to supplemental content and book recommendations for further skill development.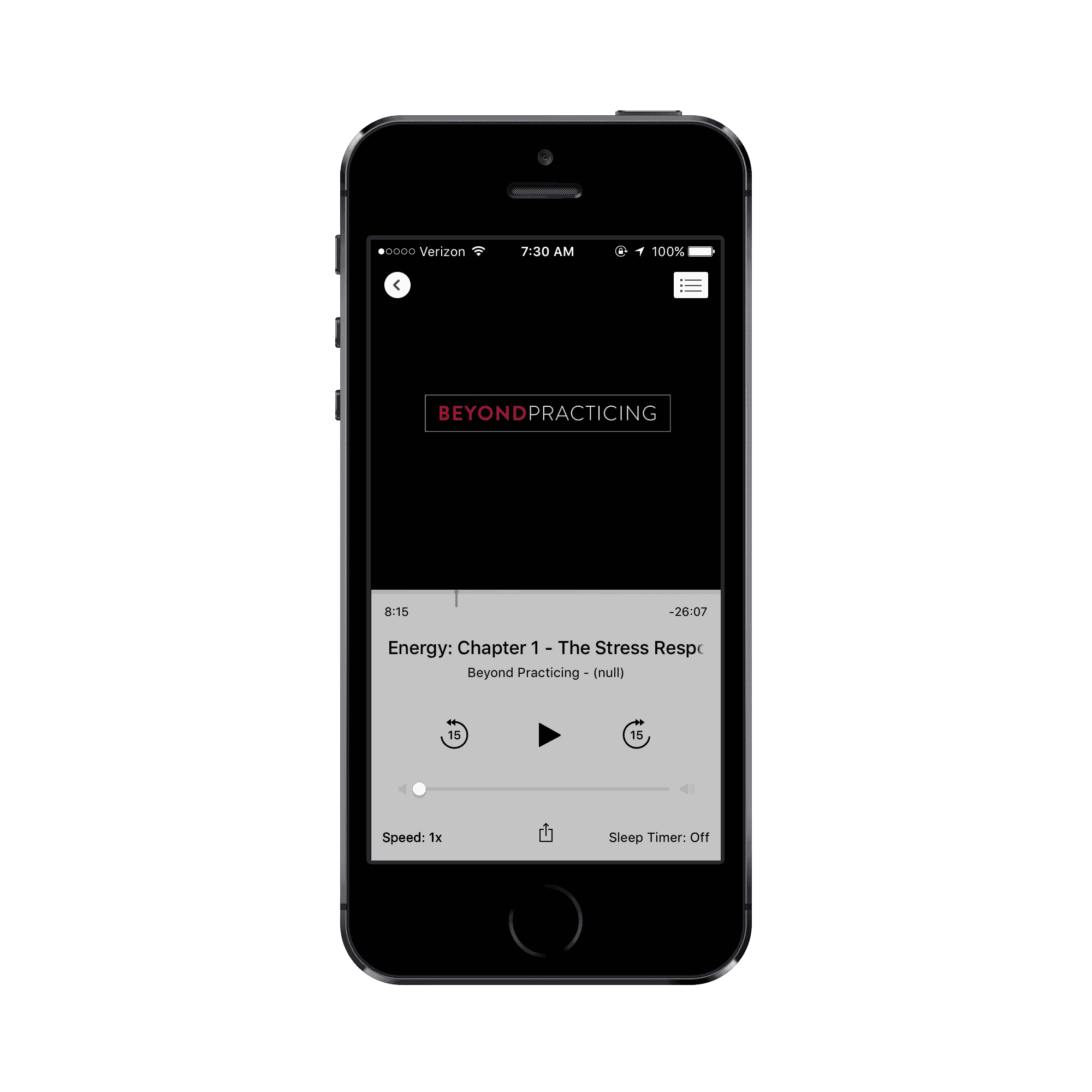 Audio
And if you simply want to listen to the lessons, you can do that on any computer, smartphone, or tablet as well.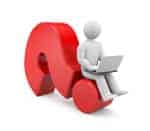 Q&A Forum
What if I have a question? Or want some clarification on how to apply a concept to my specific situation?
I want to make sure you have all the resources you need to experience on-stage success, so the Lifetime Edition includes access to a private Q&A forum, where I'll be happy to answer anything you'd like to ask.
Have a competition coming up and want to know how best to spend your practice time in the last week leading up to the big day? Just ask. Not sure how often to incorporate mental practice into your practice routine? Fire away. And if the question is of a more confidential nature, you can email me directly.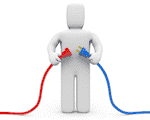 Offline Access
If you'd like to have access to the course even when you are in the middle of nowhere and don't have a wifi or cellular signal (like in an airplane), the Lifetime Edition includes easy download links so you can save the video files to your smartphone, tablet, or laptop.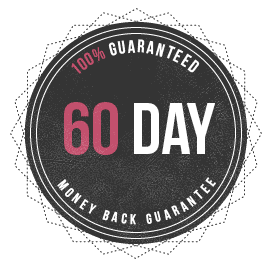 It would be disingenuous of me to promise you a principal position in the NY Phil, a sneaker endorsement contract, a million dollar recording deal, and the complete elimination of anxiety in 24 hours or less – because nobody can guarantee that. But if you are tired of seeing nerves sabotage your performances and are willing to do some work, I can promise that your experience of performing will change. Your practice habits will change. And you'll wonder how you got along all those years without these skills.
In fact, because I believe so strongly in the value of these skills, I'm willing to take on all the risk myself by offering a simple, straightforward 100% money-back guarantee. If by some chance you find within the first 60 days that Beyond Practicing isn't right for you, I guarantee a full refund. Simple. No hassles. Nothing to lose.
What Do Musicians Say About the Course?
Previous to doing the course, I was usually able to perform well, but auditions were a nightmare and almost never felt like they were representative of my playing. For some time I'd been trying to figure out the elements that allowed my performances to be successful, yet auditions less so.
Initially, I had some reservations about the cost of the course. However, once I realised the price was much the same as a small number of lessons with a well-established teacher, the value became obvious. This was even more apparent once I considered the amount of material being offered, and that many teachers teach primarily from their own experience of performing, and usually not in-depth research.
As much as I think musicians (including myself) like to think we're always trying to improve, being introduced to a course like this does highlight how much most of us don't know about performance psychology, which is clearly not a comfortable feeling. I'd spent quite a bit of time researching and investigating ways of approaching performance to increase my odds of success, and part of my initial reaction to finding this course was therefore: 'I probably already know most of this'. While I already had an understanding of some of the topics covered, this was largely only because I'd already investigated approaches well outside of anything I'd learnt through studying music performance at university. However, some of the most important lessons from this course were things I'd never heard of, nor considered before.
I am confident that this course would have something to offer anyone wanting to improve their standard of performance, even (and maybe especially) for those already performing at a high level. Additionally, I have found many of the concepts that this course presents to be invaluable for my teaching.
I have experienced several significant changes from doing the course, but perhaps the most important change is that my 'minimum' standard in performance has improved significantly. I feel I can pick up the cello in pretty much any situation and almost always perform in a way that is representative of my best playing.
I would absolutely recommend this course. Musicians spend a huge amount of time learning the craft of their instruments and repertoire, but often don't have strategies beyond 'performing a lot' to cope with the demands of performance. At any level, it makes sense for us to understand ourselves as much as possible to be able to communicate our vision of the music in performance.
I just wanted to share some good news; I won an audition for an orchestra last Saturday, and a lot of my preparation had to do with your course.
In the past, I think my performances were a bit 'hit or miss' and it was difficult to understand what in my preparation was working and what wasn't. I used to go into a performance hoping I wouldn't get nervous, and trying to figure out how to play well despite the stress of the situation. Interestingly, now I actually look forward to 'getting nervous' because it has the potential to really enhance my performance in a good way.
I had done other similar courses/coachings in the past and didn't always get good results, so that (plus the cost of the course) was a concern. Now, however, my preparation has become much more thorough and organised, and I really make a huge commitment to mental training and incorporating it into my practise and preparation. Performing is a lot more exciting now and I've experienced much better results both in how I feel about performances, and also in the actual outcomes.
Anyway, thank you again so much, and I really appreciate your work with the course. It's a huge help to many people, and I really think it gave me an edge!
I've been a gigging and performing pianist and vocal coach for about a dozen years. About 3 years ago I developed a very serious case of performance anxiety. Overwhelming nerves at the prospect of playing in front of people, even for simple music that I've performed many times before. I became OCD during a performance – needing to check my music every 5 seconds to make sure it was in order. Feeling like I couldn't breath. Sweaty hands. Tunnel vision. Absolute panic. Shaking like a leaf.
After deciding that I wouldn't quit the music world and instead seek help, I came across your website. I read your articles for many months while thinking about taking your online course. I had never taken an online course before and wasn't sure how I would respond. Would I follow through? Would I like doing it on my own? Would it end up being a waste of money and untouched in my email?
The performance anxiety wasn't getting better on its own, and frankly, therapy is much more expensive than the investment of Beyond Practicing. So I decided to commit and really go for it.
First lesson on Energy Regulation and the Centering exercise single-handedly saved my performing career. I practiced it diligently and started playing better than ever before. Using the Centering technique to target my most challenging areas, I was so delighted to absolutely nail those spots in performance. While my nerves didn't go away, they became much more manageable. And I was playing so much more consistently.
Beyond that first lesson, I discovered a real passion and interest for how the brain and body respond under pressure. You've culled through all the current research and pulled the most useful and important information and made it user friendly. Practical exercises, engaging videos, useful information.
I would absolutely recommend your course to anyone who wants to improve practice skills, increase focus, and develop more consistency while under pressure.
I've been reading your blog for about a year, and finally bought the course two months ago. The course is well laid-out, and once I started, I immediately felt hope. Your description of what happens physically, mentally, and emotionally gave me the sense that I'm not crazy, and reinforced the hunch I'd had that my problems were mental in nature, rather than instrumental.
Most impressive about the course is the individual attention, the personalized insights and support you provided as I prepared for two auditions. After just two months of practicing some of the skills laid out in the course, I played the best I've ever played in an audition. I look forward to continuing on this journey and discovering my true artistry.
Your piece on practicing immediately rang true for me. Why had all these years passed, with thousands of hours of practice, and I was still, more than I like to admit, hit or miss in performance?
I immediately started deliberate practice. Full and total concentration on everything I was doing during my practice. The results were almost instant. I performed the first violin part for Shostakovitch piano quintet a week later. Many of my colleagues approached me afterwards and said I sounded like a completely different performer. They asked what I was doing.
A month later I played a recital. Some of the violin guys I had been at Juilliard with who seem to be able to play everything, anytime, really well, and a world renowned violinist were there. They were all back stage before the performance to say hi. This used to be enough to reduce me to jelly, and my performance would suffer because of it.
But with my new way of practicing, I walked on completely confidant, did not feel an ounce of fear, and performed the best I have ever performed in my life. I knew EXACTLY what I was doing, what I wanted, and it all happened the way I planned. I walked off stage for the first time in my life absolutely satisfied with what I had done, and made no excuses. Again, many of the persons I had been close friends with, but always slightly envious of their comfort and ease on the violin, came to me after the performance and asked me what I was doing differently, adding that they had never heard me perform so well.
Thanks Dr. Kageyama, I wish you had been at Juilliard when I was there!
I believe that your course and response to my question (about what to think about when you perform) really did help me to give successful auditions. For several months prior to the auditions, I would become so nervous before each performance, particularly if there was anything at stake. However, I am so much more confident now! I can let my mind be free and just hear the sound of my instrument.
Additionally, and not to be dramatic, I gave the greatest performance of my life since our last exchange! I was definitely in the "flow" state, as you mentioned in your course. It was truly a phenomenal moment that I don't think I will ever forget.
I wanted to let you know that I performed a recital at the annual international conference last week and it was the first time I had played at one of those without beta blockers. A bunch of people said it was the best they had ever heard me play! I was amazed how much more comfortable I felt and how much more fun I had. Thanks!
"Madison" has always been a confident, intelligent, and creative kid. She has both musicality and technicality in her playing, however I noticed that nerves were getting in her way starting from 11 years old.
She would get tiny memory slips which would cause nervousness, embarrassment, and result in a negative association with performance. It became difficult to sleep the night before, and she would experience cold hands, heart palpitations, etc. Sometimes her playing was clean and sometimes not…it was totally unpredictable, and made me nervous watching her.
I was frustrated, thinking what good is it when she puts so much time honing her craft when she is unable to perform her best on the stage!!
I've always had an interest in psychology, so when we found out about your course, Madison was concerned that you may go over things she already knows, as she has already studied some of the books and DVD's related to peak performance, performance anxiety, and memory. Plus, most online products overpromise and underdeliver.
But I felt very sorry for Madison as she works so hard, so after studying the website and reading some of the articles, we thought it was worth a try.
I wanted to let you know that Madison recently won a competition, and says that your program helped her play more consistently. Your program is unique in that it addresses her unique problems and it can be reviewed over and over and continue to improve her performance skills. It helps her preparedness, focus, and memory, thus eliminating fear. She still has some anxiety response, which is good to some degree, and she can control it for her benefit.
Thank you so much – I don't want the cost of the course to be an issue for others to not enroll, so it has to be reasonable, but OMG, it's worth every penny!
(Or, 3 monthly payments of $87)
---

7 Skill Modules

(streaming video lessons)

7 Skill Modules

(printable PDF workbooks)

7 Skill Modules

(streaming audio)

Downloadable Video & Audio Files

(for offline use)

Q&A Forum

Free Upgrade to Version 3.0

(coming soon!)
(Or, 3 monthly payments of $97)
---

7 Skill Modules

(streaming video lessons)

7 Skill Modules

(printable PDF workbooks)

7 Skill Modules

(streaming audio)

Downloadable Video & Audio Files

(for offline use)

Q&A Forum

Free Upgrade to Version 3.0

(coming soon!)
Frequently Asked Questions
I want you to be really happy with the course. Like, "happy happy joy joy" happy. So if this isn't the right course for you, just forward me a copy of your receipt within the first 60 days, and I'll process a refund straightaway.
The entire course is online, with all PDF's, videos, and audio available instantly. Once you complete the checkout process, you'll receive your username/password via email and be able to log in and access all materials immediately.