Search by name, instrument, location, or any text that may be located in the "notes" field.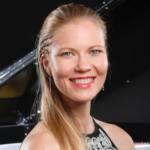 Secondary Instrument(s):
Clarinet
Notes:
My development into the artist I am today has been eventful and full of action. It has certainly not only included piano playing. Other instruments, dancing and boxing have all contributed their part. I co-own a non-profit swing dance company in metro Atlanta called Triple Step Studios.
Instrument:
Classical & Flamenco Guitar
Notes:
Guitarist, educator & composer specializing in flamenco, classical, Latin and jazz inspired music. • • Expert lecturer on Flamenco history, music, and dance. • • M.A. in flamenco pedagogy, musicology & ethnomusicology ("Flamencología") (ESMUC, Barcelona, Spain). My thesis analyzed and systematized expert practice & performance strategies in flamenco guitar via pedagogical evolution, expert guitarist interviews and testimonials, and scientific research on learning and expertise. * • B.S. in research psychology (Loyola University Chicago). • • Highest honors in flamenco guitar performance (Fundación Cristina Heeren de Arte Flamenco, Seville, Spain). •